2013-09-09 (Monday) by Mikael Linusson
While taking part in Ludum Dare #27 I kept a detailed time log. Today I went through it and summed it up, and here's the result. :)
You can find the game here: Graviteer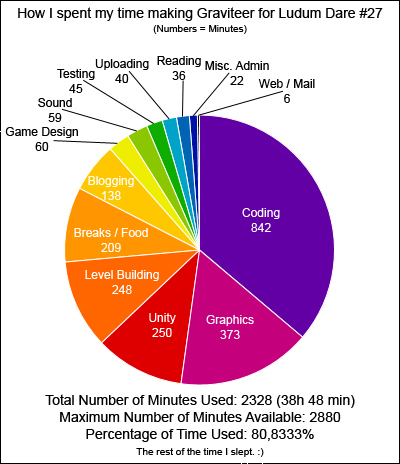 A bit more detailed info:
The numbers are in minutes.
842 - Writing Code
373 - Creating Graphics
250 - Unity Stuff (Create Project, Setup Camera, Resolution, Folders, Add Graphics and Sounds, Change Settings, Create Scenes, and so on...)
248 - Level Building / Editing
209 - Breaks / Food
138 - Writing Blog Posts + Twitter Messages
60 - Game Design
59 - Creating Sounds
45 - Testing
40 - Uploading (Including Exporting Versions from Unity and Creating Screenshots)
36 - Reading Docs / Google Something
22 - Misc. Admin (Update Todo List, www stuff)
6 - Web surfing, Mail, and Twitter Reading
Totals:
Total Number of Minutes Used: 2328 (38h 48 min)
Maximum Number of Minutes Available: 2880
Percentage of Time Used: 80,8333%
Comments:
The testing is pretty low because a lot of the testing was made while implementing things and didn't get its own line in the time log.
The nearer the deadline I got, the less exact was my timelog, but I've split the time between multiple items when I hadn't written an exact time between every item on the list (which I didn't do the last two hours before the deadline).
The rest of the time during the competition was spent sleeping (in the beginning and in the middle).
Most of the blogging was on day one.
I was quite surprised when I realized that I had spent almost three and a half hour having breaks or eating food.